Lensmaster™
The complete software solution for turning industrial arms into Cinema Robots.
Lensmaster™
Motion

control

made

intelligent

intuitive

for you
Lensmaster is an advanced motion control software for Camera and Cinema Robotics.
With a Powerful and Intuitive real-time interface, Lensmaster offers unmatched flexibility with tons of features that let you focus on design and creativity.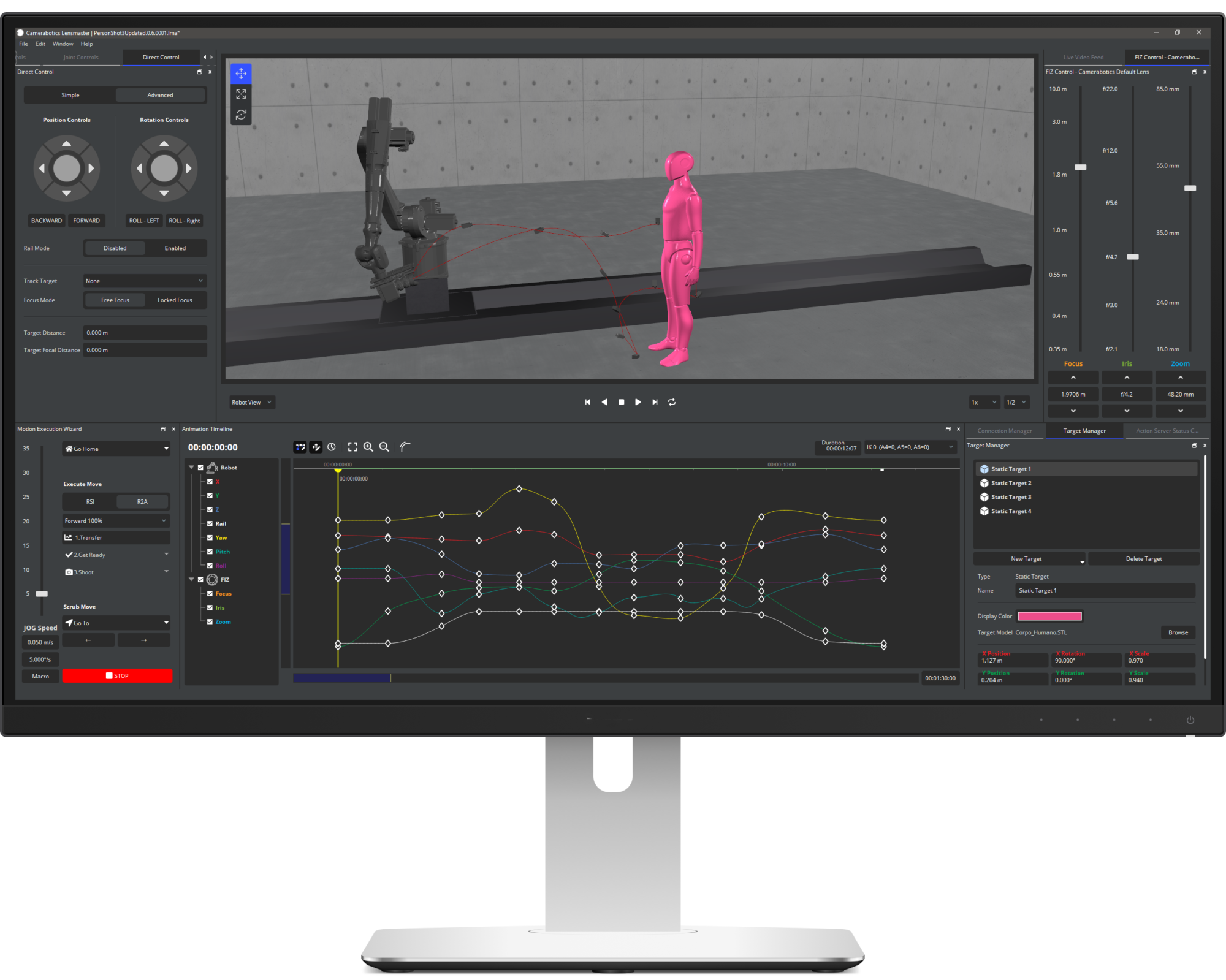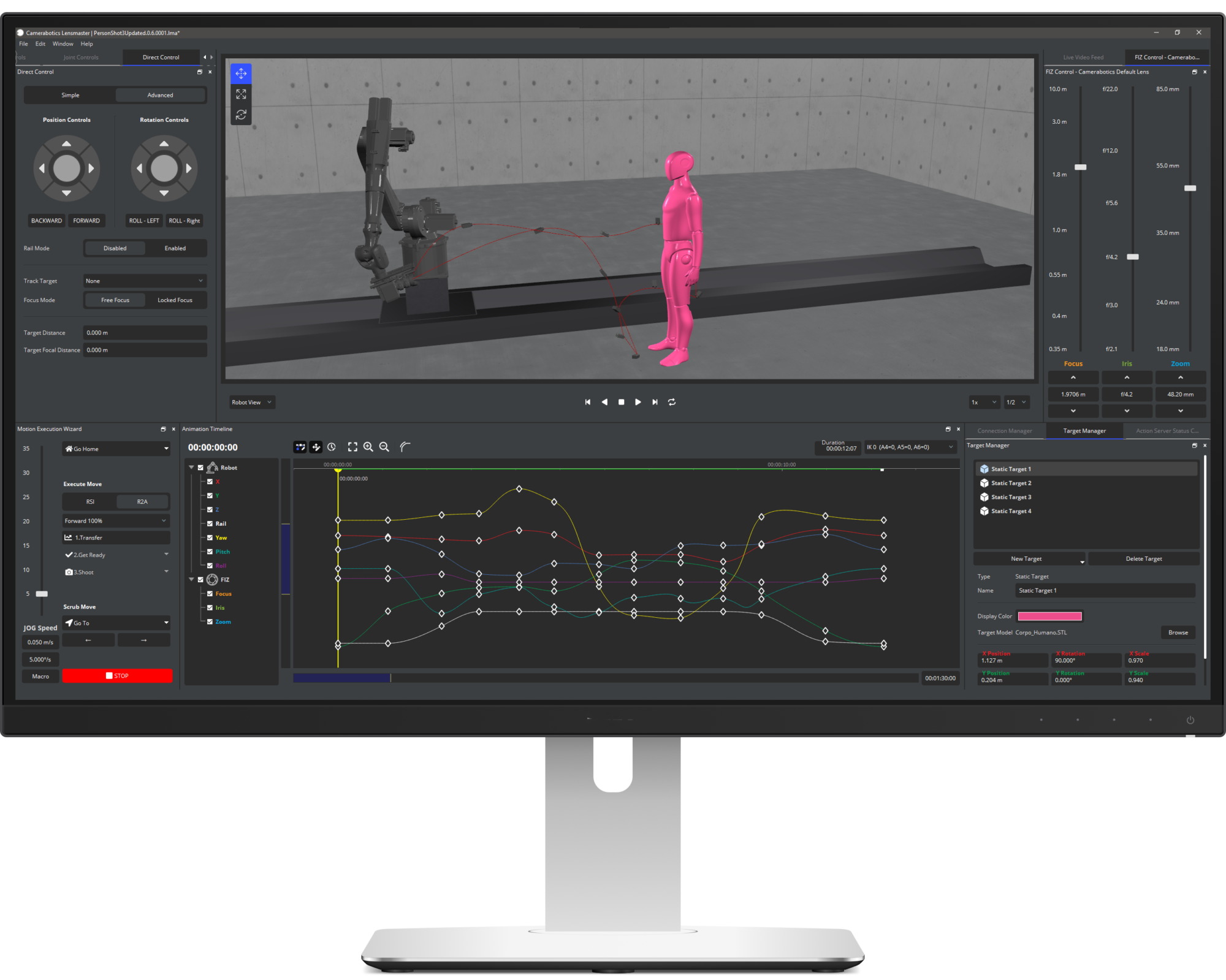 A Familiar & Intuitive Interface
Our software package was carefully designed by expert roboticists and leading cinematographers to include key Cinema Robot functionalities. Take your production to new heights and amaze your clients with unparalleled speed and flexibility.
Real-Time Interface
Focus on design and creativity and let Lensmaster remove the guesswork from your robot.
Timeline Editor
Design complex moves with few keyframes using Lensmaster's advanced motion planner.
Many Robots
Lensmaster integrates with all KRC4/5 Kuka robots seamlessly over Ethernet.
Dynamic FIZ Control
Perfectly sync up your Focus, Iris, and Zoom to nail the perfect shot.
Pinpoint Accuracy
Easily keep your subject centered in frame at all times regardless of how crazy your move is.
Joystick Jogging
Jog your robot in realtime using any joystick controller via Lensmaster.
Synced Triggers
Control up to 160 digital outputs via Lensmaster Action servers; all in sync with your robot.
No Proprietary Hardware
Lensmaster runs directly on your Windows laptop or desktop without the need for any proprietary hardware.
Pre-Visualization
Virtually visualize your shot whilst designing it before connecting to a robot.
Benefit from exclusive early adopter perks. Forever.
Camerabotics's fast-to-program interface allows you to take full advantage of your industrial robot. And with our intelligent timeline, you can design complex camera movements, track targets, set focus, iris or zoom, initiate triggers and so much more.
"Our clients come to us because they know we can get ANY shot done with our robot"

Kartik Reddy

Co-Founder of Mocobot Studio
Looking for a turnkey cinema robot?
We've partnered up with system integrators to offer Lensmaster as part of their packages.
Setting up your own robot?
Download our guide on getting started with cinema robots to help you through the process.
We are a team of expert roboticists and visual artists aiming to empower filmmakers with state-of-the-art robotic motion control capabilities. Uplift your production with our complete solution that turns any industrial robot into a cinematography powerhouse.
Improve On-Set Experience
Effortlessly respond to your client's feedback during shoots. Our software allows you to save time, personnel and trouble on set.
Lensmaster gives you the power to film incredible and gorgeous content that is not possible with traditional techniques.
Get your robot up and running in a matter of minutes with Lensmaster. We also provide step-by-step guides in our help center.
Our team of application engineers is always ready to assist you and quickly address any custom requirement that you may have.